Weekly Wino: Tempo per Tempier? Indeed.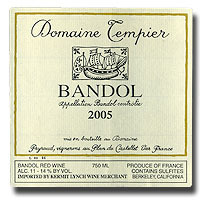 I'll admit to being very excited about American Idol, but awkward performances and triumphant surprises made for a splendid evening over a glass of Tempier Bandol. My very own
DoBianchi
, was recently braggety-bragging about having drunk the famous Tempier Rose' that I have yet to taste. In his wisdom, to avoid seeing me take a long walk down pout street, my guy hastily opened a bottle the '05 Bandol Rouge last night.
Please
visit here to git yerself a-learnin' about the Bandol appellation
. I will not torture you with my clumsy and perfunctory version of history and percentages when my rested fingers can point you elsewhere. I'll just tell you that this Provencal beauty is mostly Mourvedre with some Cinsault, perhaps some other usual suspects. Maybe someone out there knows the recipe...? The Google gods granted me no such tech sheet in an admittedly brief search this morning.
I brought two cheeses home from
Mandola's
. The first was a Chevre, the second a Pecorino Sardo. I fully expected the former to pair with the aperitivo of bubbles and the latter with the Tempier. Instead, this wine seemed strong but SO delicate that the Pecorino overwhelmed it. The Chevre was, suprisingly, the perfect partner.
Who knew?
Aahh, now to the good stuff. The nose gave hints of earth and tar, supported by an undercurrent of black cherry liquorice. On top of the crust and the filling were sprinkles of anise, lavender, cedar, and eucalyptus. But what was new and MEMORABLE about this wine was the velvet softness that reminds me of the fresh, cool stroke of talcum powder on a warm summer day. It made my mouth water in the same way that natural minerality usually does, but this was not made of salt or stone, it was
Baby Soft
.
I could barely tear my nose away.
So when the performances were sub par, I retreated into my glass of babies and spice, thankful to Kermit Lynch for deliverance.
Labels: american idol, bandol, mandola's market, rose', tempier, wine